Penny's experience with dogs started in 1968 when she and her husband Bob acquired their first Newfoundland, Samantha who Penny trained to her C.D. Penny started grooming 3 years later with her first show dog, Ch. Edenglen's Windjammer. Bob and Penny have bred Newfoundlands sparingly under the Alpen kennel name. They successfully campaigned their home-bred Ch. Alpen's American Greeting to her championship and as a special.
Penny has refined her grooming craft with the help of some of the top handlers, including Rich & B.J. Orseno, Dick & Judy Cooper, Bob Walberg, Brian Meyers and Gretchen Schultz. Although her primary focus is on Newfoundlands, she trained and learned the tips and techniques for most coated breeds. She has groomed winning St. Bernards, Great Pyrenees, and Bernese Mountain Dogs. In Newfoundlands, Penny is without peer. Since the late 80's, Penny has groomed almost every BB at the National Specialty, as well as the majority of intersex winners and select dogs. At the 2003 National Specialty, Penny groomed BB, BOS, WD(BW), WB, RWD, and 7 of the 10 Selects, as well as numerous class and Sweepstakes wins. At the 2004 National Specialty, Penny groomed BB, WD(BW), WB, RWD, RWB and 8 of the 9 Selects and numerous class and Sweepstakes wins. At the 2013 Specialty, Penny groomed BB, BOS, WB(BW), WD(AOM), Select Bitch, 5 of the remaining 9 AOM, RWD, and numerous class and Sweepstakes classes. Internationally, Penny has groomed the winning Newfoundland at Crufts, the Italian National Specialty and The World Show.
In addition to her grooming, Penny has taught seminars at the NCA National Specialty, throughout the United States, Europe, Australia and New Zealand.
Penny also taught ballroom dancing in Indianapolis with Rauno and Kristiina Ilo, who, as competitors, were rated #3 in the United States. Before she started teaching ballroom dancing, Penny competed around the country as an amateur. When she isn't grooming dogs or dancing, Penny enjoys gardening and is learning about the different plants that grow in South Florida.
(Click on the pictures for a larger view)


Grooming seminar in Australia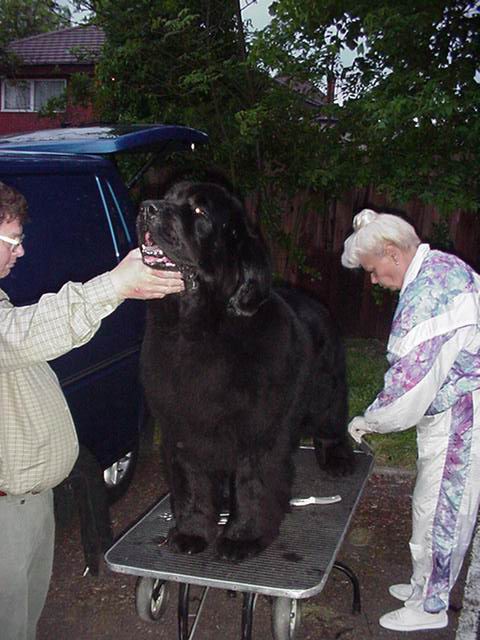 Preparing a dog for Crufts